If you haven't heard of Now Lifestyle you probably will very soon. It's the new program by long-time internet marketer Joel Therien. That's the same guy that brought us 7minuteworkout, Pure Leverage GVO and GotBackup just to name a few.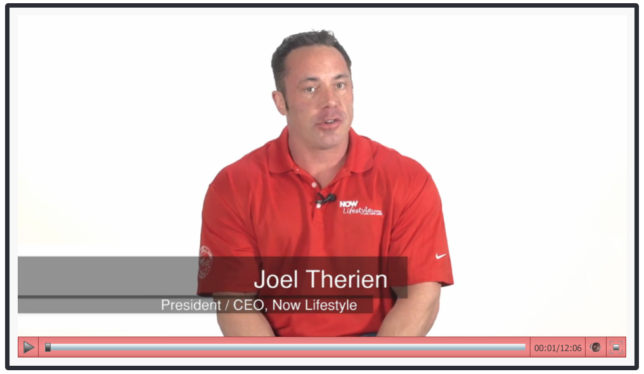 As of this post the company is now in prelaunch and gaining momentum really fast. Not surprising when you think about who's behind it. Joel Therien has been in the industry a long time and is respected in the industry for creating really successful programs. I have a pretty good idea this one's going to do just as well.
Now LifeStyle Overview
---
Now Lifestyle is a health and wellness company that, to me, looks like a combination of 7minuteworkout and the gvo autoresponder rolled into one.

On the sales page the show 4 different products:
Product 1: HEALTH AND WELLNESS PACKAGE FOR YOU AND 5 FAMILY MEMBERS
A completely customized nutrition and exercise package unique to each of your 5 family members.
Product 2: OUR BODY BOSS HOME WORKOUT SYSTEM
This highly versatile and portable exercise system will give everyone a great resistance workout from home.
Product 3: PROFESSIONAL AUTO RESPONDER SYSTEM
Save Time and money with your sales and lead generation with our professional email marketing system.
Product 4: MASSIVE TRAFFIC CO OP
Collect healthy commissions on all Traffic and Lead Co Ops we do. Everyone needs traffic, leads and sales!
You get all this for a $49.95 joining fee which is refundable within the first 30 days.
The products look legit and, if my suspicion is true and they just combined their other products and rebranded them into this, the program will still be pretty benefital. I've heard a lot of good things about those products.
Now Lifesyle Products
---
Apart from the products above there are one-time high-ticket products hidden away in the back office under the name "Now LifeSyle University" or NLSU for short.
They're a package of products that range from $49 to $14997(holy crap!). The commission structure on these look amazing as you'll see below.
Here are the NLSU product break-down:
Email Marketing Mastery – Email marketing fundamentals ($497)
Now Body Certification ($2997) – They claim that this product "certify" you as a Nutrition and Exercise expert. Certify as one of their trainers that is. When you complete the whole course you'll qualify to train with Joel for a full week down in their Texas headquarters.
Inside Now Body Certification  there are 3 modules:
The Training Module
Positive momentary muscular failure
Training schedules
Why high intensity workouts?
Why you can never stick to an exercise program
Nutrition Module
Balancing diets
Fiber
What are macronutrients?
How to balance macronutrient ratios
Six meals a day
Supplements
Why people hit weight loss plateaus?
Training Myth Module
Diet or exercise which comes first?
Help! I'm not losing weight
It doesn't work on older people
Spot checking
Why diets fail
Will exercise help my loose skin?
Woman get big from weight training
Fat loss
These Now LifeStyle programs look like they're packed with information however, being that the company is still so brand new, I doubt they've been completed.
Now for the 15K product that you'll be selling if you're a Now LifeStyle affiliate. The product is called Now LifeStyle Seminar Retreat (of course it is…) and it sells for $14,997
Here's the quote directly from the back office:
"Join us in in Cabo San Lucas for our inaugural Now Lifestyle Retreat! For 7 days we will cover every aspect of the NLS brand. Guest millionaires will share their paths to success in various internet and offline networking business. Each day will have 4-6 hours of content/training, the balance will be fun in the sun networking with your Now Lifestyle team and leaders."
I don't know about you but that seems like a big sum of cash. It's not mentioned on the site but I'm guessing this is a one time fee that will include lifetime qualification to participate in these events.
These prices definitely look hefty but for what I believe will be a limited time while in prelaunch you can purchase all the above big-ticket level programs and be qualified to earn commissions for a $697 all-in price.
Much better than the 18K and doable but still can be too high for some people. The option will only be available for 7 days after you join so you'll need to think quick.
It's interesting to me that companies release these programs usually around this time…when a lot of people are getting their tax credits and just itching to find something to spend it on. Very smart guys!
Now LifeStyle Opportunity
---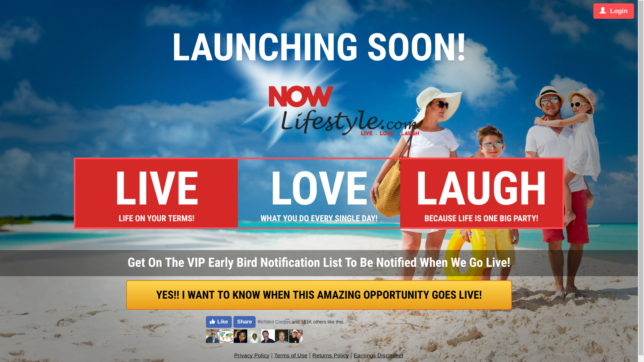 Now LifeStyle has a compensation plan with 2 parts. The first is a 100% commission similar to PureLeverage.
You earn 50% commission on your front line sales and then 50% matching bonus on the commissions that your downline makes. This plan is very lucrative if you sponsor some heavy hitters who can sponsor in their sleep.
The second part of the pay plan is a binary system where you earn $20 each time you cycle. See illustration below: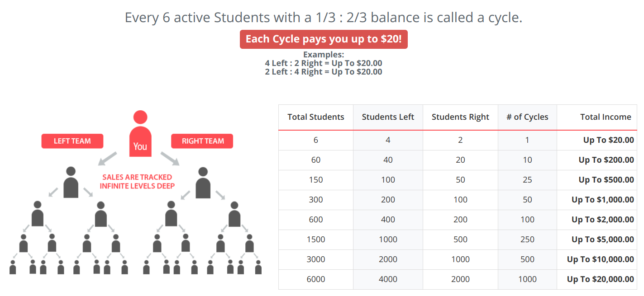 The compensation plan for the big-ticket NLSU is different.
For Email Marketing Mastery you earn 40% first level and 10% down one level
NowBody Certification you earn 40% first level and then 10% down 2 levels
NowLifeStyle Seminar Retreat you earn 40% first level then 10% down 2 levels.
And the Masters Package (the all-in package for $697) you earn 50% and 10% down 2 levels.
As of writing this post the cost to get started on the front-end is $49.95. No monthly subscription yet but looking at the comp plan it's obvious there will be. Once launched there may be a $20 reseller fee to resell the products. Check the Now LifeStyle affiliate agreement for any changes.
Conclusion
---
Judging by how NowLifestyle looks at this moment I'd say they're looking to last a long time. Just taking a quick read through the back-office and the legal documents at the bottom of the sales page I'd say they're super complaint and not fooling around.
As a person who's been in MLM before I'd say this is an awesome business and leaders will be flocking to this. But as always business like this are always filled up by marketers who just don't know how to market and advertise successfully.
Many still struggle with the capital needed to effectively drive massive amounts of traffic to replicated capture pages provided by the program.
If you're seriously considering joining NowLifeStyle I'd recommend getting in with a marketing strategy already in place.